Old Project, New Perspective

It was my family's 'sugar shack day' last weekend and it made me nostalgic. I've been missing it for 8 years now.

For those who don't live in Québec, a sugar shack is where maple syrup is made. You usually go there in the spring to see it in action and have what is essentially a brunch. But oh, what a brunch! Split pea soup, omelette, bacon, sausages, ham cooked in maple syrup, fried potatoes, baked beans with lard, maple sugar pie, and deep fried pancakes covered in maple syrup 🤤🤤.

And to top it off you finish the meal with maple taffy, which is basically concentrated syrup. It makes you feel both very happy and slightly sick.


Ooooh Sugar

I found a photo of this illustration on my phone. It dates from May 2018, when I was working on my magazine about sugar shacks. I didn't use it though. Instead, I commissioned a friend to make the illustration that appears in the magazine.

I didn't like my painted illustration at the time. I can only assume it was because it didn't look perfect (yes, that word again 🙃) or at least real enough. The thing is, I really like it now! I think it has a nice style to it. I would 100% put it on my wall. But I can't find it, I must have thrown it away. All that's left is this photo.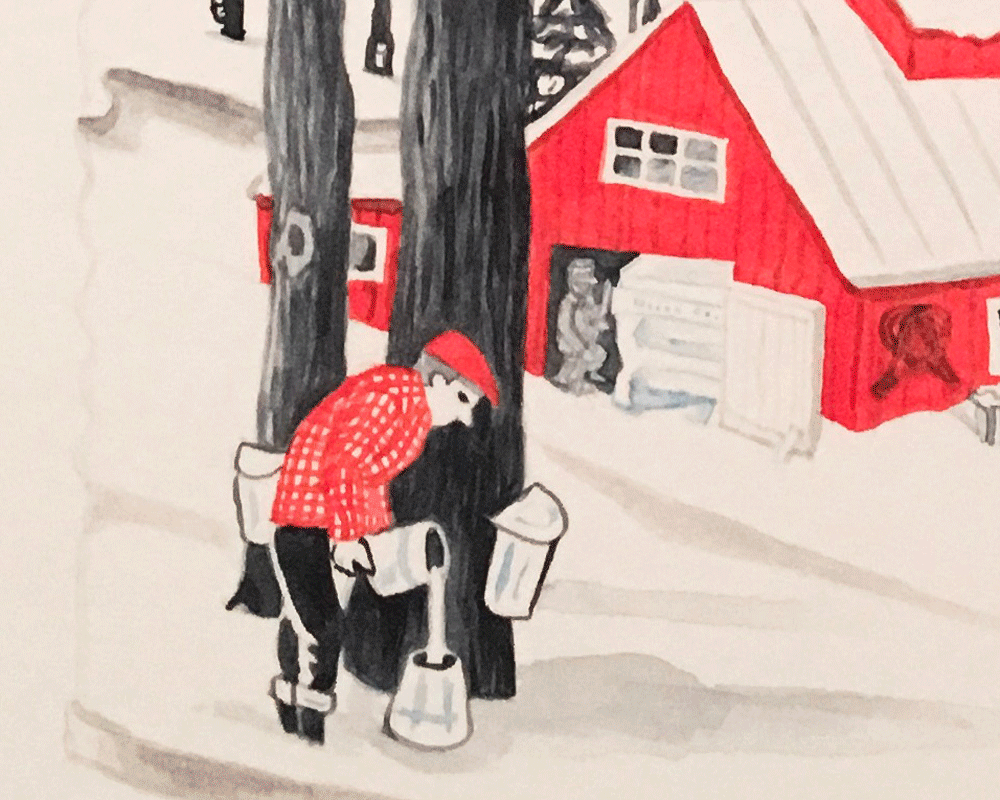 Illustration close-ups



I have a few theories as to why I've changed my opinion of it. The first is that the wording on the red label is different from the original can. I think I created the illustration for the magazine cover, and rejected it for the final (and frankly better) idea. Which means I was judging it on more than its artistic qualities. The second is that I've started embracing a 'looser' style for myself, and so can now judge past work on that basis. The third one is that it's been long enough that I almost see it as someone else's work and can therefore appreciate all that's good in it.

It's hard to have perspective when something is fresh. It's a bit like when you look at a photo of you that's just been taken and you go "hum, not my best." Then you look at it a year later and 9 times out of 10 you'll think "I look fine on this!"

Apparently, Stephen King said that a writer should put their first draft aside for a minimum of six weeks. When they come back to it, they see it with outsider eyes and can make better judgment calls for editing. Maybe I should adopt that technique with my work.

Judith xx



---
Inspirations
The real can
Maple taffy
---
Book recommendation
Three factors convinced me to buy
Really Good, Actually
by Monica Heisey:
1. The excellent title
2. The lovely book cover
3.
Will McPhail
saying on his IG stories it was funny and that he loved it.
And funny it was. In spite of the premise—a young woman going through a divorce—I often laughed out loud. Other parts weren't so funny, obviously. It's a very convincing portrayal of how low you can get without realising it. Some of Maggie's (the protagonist) lows were painful to read, but only because you're rooting for her.
---
Shop news

I'm working on developing new illustrations (finally) and a new product! Would anyone be interested in notebooks? 📓✍️



In the meantime, you can find my current illustrations and me at the

Honest House Market

next weekend at the Truman Brewery in Shoreditch!

And if you happen to be around Spitalfields Market on the 10th or 31st of May, come say hi as I'll be trading there as part of

Urban Makers

.

Lastly, I've added a few options for custom or commissioned illustrations on my website! Check them out here.


---

Want to get this blog directly in your inbox each month, with added news about my shop and special announcements? Just subscribe to my Inspired newsletter.