Where Has Summer Gone?

The month of August is ending, and with it the best part of summer is over. When I wrote a draft for this newsletter issue early in the month, I was expecting to have my usual end of summer feelings by now: that I'd be happy the colder months were coming (layers for the win), that September would forever bring me that 'back to school' energy to start fresh projects. But we – in the UK in general and London especially – had a shit month of August weather-wise. I miss that one last week of heatwave to be truly ready for autumn. And unexpected and terribly sad news in my family has put a dampener on my energy. Still, here's hoping September weaves its magic. ✨


ALOK


My inspiration this month is ALOK (they/them), a gender non-conforming writer, performer, and public speaker. I first came across their Instagram account a little over two years ago now, with a video of them reciting their poem trans/generation. It's about gender and intergenerational trauma, which sounds heavy – and it is – but it's also beautifully touching in the way that honesty and vulnerability often are.

Since then I've learnt a lot from ALOK, from facts about why gender is a social construct to the history of body hair removal—and why we shouldn't feel ashamed of it. I'm still struggling with accepting my own body hair (I weirdly don't mind it in the slightest on someone else) but I hope to be able to proudly show you my hairy armpits one day!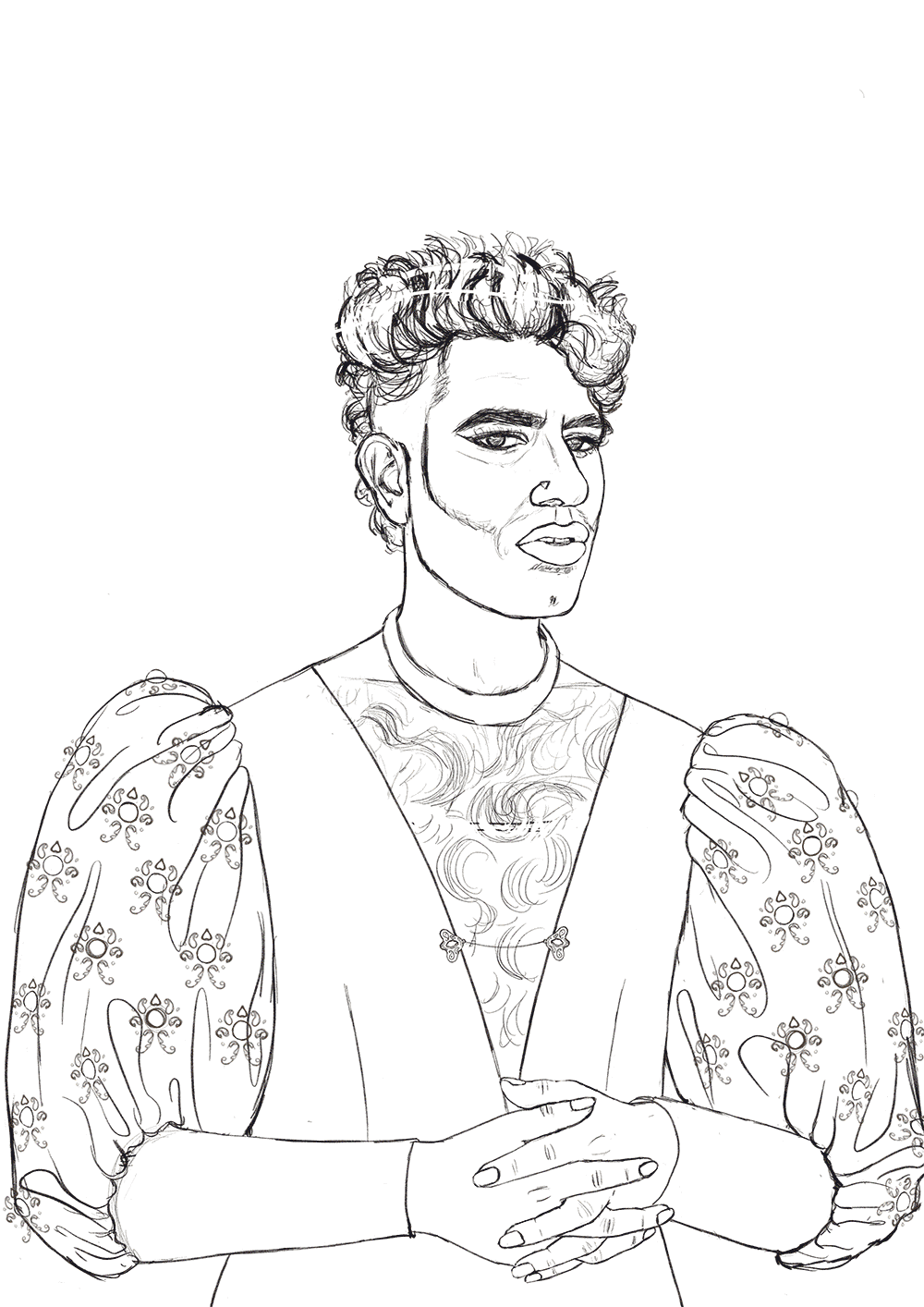 I work in layers. Here you can see how many I used.



But even if none of that interests you, I encourage you to follow ALOK if only for their fabulous sense of fashion. 🤩

Which leads me to my illustration. I saw a picture of ALOK looking glamorous with their chest hair all styled up in swirls and I thought it looked amazing. Plus something in the picture's mood made me think about a late Renaissance/early Enlightenment painting, so I tried to have a modern take on the style and put ALOK in a classic pose. I also looked at South Asian art from the same era, which would have been during the Mughal Empire, for more inspiration. Although the two painting styles are completely different, both have an amazing attention to details. I used a few reference photos from ALOK's instagram (see below) for the composition.




The dress is, again, a mix of inspirations. I've been obsessed with puffy sleeves since the mid-80's (thanks to Anne of Green Gables and Jennifer Connelly's dress at the end of Labyrinth), a love that was latent for a while but is back in full swing. I decided to bedazzle them for added decadent luxury. Because if you're not treating yourself, you're cheating yourself ;)

Judith xx


Illustration close-ups

---
Mentioned inspirations
Portrait of a Lady
, probably Camilla Martelli de'Medici by Alessandro Allori, 1570s.
Portrait of
Raja Jagat Singh of Nurpur
circa 1619. You can admire more South Asian paintings from the
Mughal
era
here
.
Sandra Oh looking stunning at the 2020 Oscars in her Chanel dress, which the illustrated dress is loosely based on.
Anyone else loved this dress? I mean, Labyrinth was amazing full stop.
---
Book recommendation
When we think about love the first thing that comes to mind is romantic love. But in the past few years I feel like there's been more and more talk about friendship love (looking at you
Dolly Alderton
). And then there's of course parental and sibling love, or even the love we extend to strangers by just kindly smiling.
In
Conversations on Love
, based on her popular newsletter of the same name, Natasha Lunn explores all those types of love through three major themes: How do we find love? How do we sustain love? How can we survive losing love? She finds answers and guidelines through the multiple conversations on the subject, and through her own life experiences. It will make you think a lot about your own relationships. A word of advice, if a loved one has recently died the last theme will bring you both hope and many, many tears.
---
Want to get this blog directly in your inbox each month, with added news about my shop and special announcements? Just subscribe
here
.