Unintentional Good Timing

I don't usually create a personal illustration project to match an event, mainly because I don't want to put pressure on myself to be done for a specific date! 😅 People who knew me when I was sewing my own clothes can attest that my self-imposed deadlines will end in tears and/or hand-sewing the last few stitches as I arrive at the party. All that to say, it's a happy coincidence that I happened to finish this month's illustration during Women's History Month in the UK.


Gloria Steinem

I think that I'd heard of Gloria Steinem before 2017, but I can't be sure. In any case, around that time (maaaaaybe through the dearly missed podcast The High Low ? 🥲), I came across Steinem's brilliant and satirical article titled If Men Could Menstruate. It made me want to know more about her.

If you're like pre-2017 me and don't know much about Gloria, she's a journalist and social-political activist. She became a national leader of second-wave feminism in the United States, in the late 1960s and early 1970s. She's still "activisting" today, at 88 years-old! Her Wikipedia entry is very long but very much worth a read.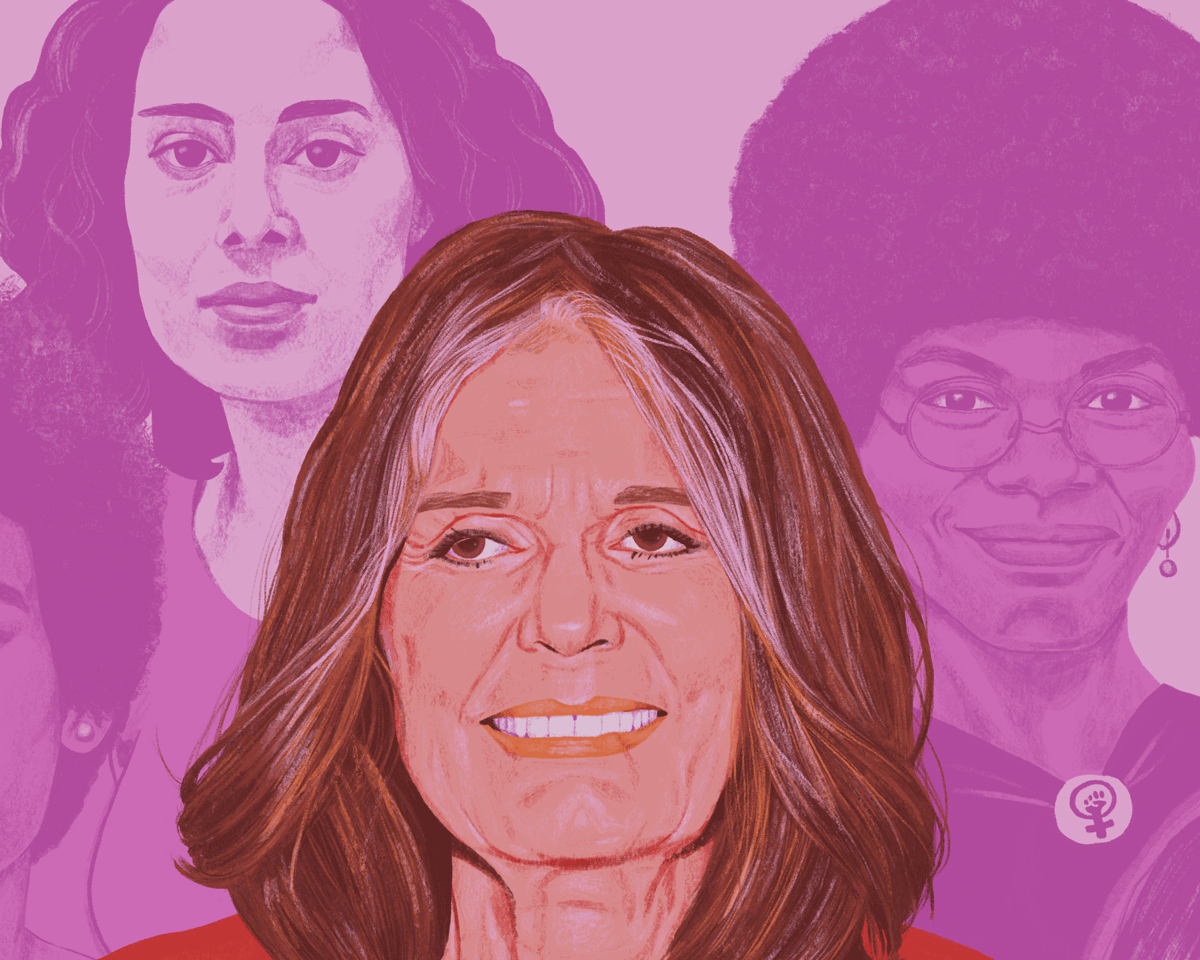 Illustration close-ups



Gloria is an admirable woman, but she's not a one-woman band. In order for things to move, you need many people engaging with and fighting for an idea. That's why I added all these women in the background. Back in the 1970's, they fought for women's rights. Without them, the movement leaders couldn't have accomplished much. The same goes today.

I wanted to include more than one black women, because of the important role they played and still play. As Gloria said:


"I thought they invented the feminist movement. I've learned feminism disproportionately from Black women. I realize that things being what they are, the White middle-class part of the movement got reported more, but if you look at the numbers and the very first poll of women responding to feminist issues, African American women were twice as likely to support feminism and feminist issues than White women."

I also wanted to draw Steinem the way she looks now—even though she had a killer look in the 1970s—because you know my love for wrinkles 😁 Let's celebrate getting older and wiser, and showing it off.

Judith xx



---
Inspirations
The protest images from which I chose the women in the background.
---
Podcast recommendation
This month I'm recommending
The Polyester Podcast
. The co-hosts, Ione and Eden, have (mostly) nuanced discussions about a specific cultural topic every episode, seen from from an intersectional feminist lens.
The fact they're younger than me means that I get to learn about what's happening outside of my bubble. It's my current podcast crush, I listen to every episode.
---
Shop news
I'll be at Crafty Fox Market at Kings Cross, The Crossing, this coming weekend on
April 1st
! You can come see me between 11am and 5 pm.
And I'll simultaneously be selling my prints in two venues: at the new Travelling Artisan Popup in Gabriel's Wharf, and at the new
Art & Soul
store in Hull. I'm excited to see how they pan out.

These smaller stores and pop-ups work differently than big retail stores: they don't take as big a percentage from your sales, but you need to pay for them to stock you. It's like renting a place to sell your products. It's stressful to pay money upfront, without knowing if what I create fits with their clientele.



Oh, also, I low-key redesigned my shop website. Consider this the soft launch! Will try to do something with more fanfare to celebrate, but you can have a look now.


---

Want to get this blog directly in your inbox each month, with added news about my shop and special announcements? Just subscribe to my Inspired newsletter.